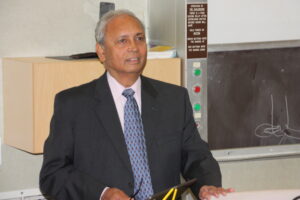 Dr. A. Ghosh Roy received his MD degree from the Calcutta University, Calcutta, India. He also is a fellow of the Royal College of Surgeons and a fellow of the American College of Surgeons. He was an assistant clinical professor of surgery at Boston University and is an instructor in surgery at Tufts University Medical School. He was the chief of surgery at the Milton Hospital in Milton, Massachusetts, where in 2005 he won the Lira Family Award for Physician Excellence.
An early proponent of Laparoscopic surgery, Dr. Roy held workshops in India and introduced laparoscopic surgery in eastern India. He taught medical students as well as lectured and trained young surgeons both in the United States and in India. Dr. Roy consulted and performed surgery for free during multiple trips to India. He also traveled to Haiti on a medical mission, where he supervised and performed surgery with local surgeons. Dr. Roy also taught Tufts University students in Haiti. Although retired from his general and vascular surgery practice, he continues to participate in the clinical rounds of the hospitals.
In his spare time, Dr. Roy likes to edit home videos to turn them into movies and enjoys photography. He is a Patriots and Red Sox fan and says even though he's the worst golfer, he loves to play.
To see surgeries and other videos by Dr. Roy, please visit his YouTube channel here.